An Aberdeen woman has channeled her own experiences into an inspiring children's book.
Nicola Mcilraith battled years of bullying and depression, before being diagnosed with Asperger's at the age of 22.
The University of Aberdeen graduate says she's spent her whole life feeling like she doesn't belong. This feeling inspired her children's book, The Story of Tom the Tomato.
The book was published in 2021 by the charity Inverness For The Right Reasons.
Incredibly, Nicola personally wrote to every teacher in Scotland – and half of England – telling them about his book.
She hopes this will help readers see that there is a place in the world for all of us and foster acceptance for children with autism.
"We are all human; we are all going through the same things," says Nicola. "Now there will be other kids who will be bullied or feel like they don't belong.
"I hope they will see that other people feel this and that there is nothing wrong with them. And I hope it will raise awareness for other people as well – teachers and peers."
Autism meant 'I retreated into my own world'
Nicola grew up in Aberdeen and had a difficult start to life, with problems at home and at school.
She says she first tried to fit in in primary school, going from group to group asking children if they wanted to play. However, she struggled as the students got older and conversation became more important to making friends.
"I stopped talking at school," says Nicola. "It was really a social experience. I didn't think anyone cared.
Nicola was bullied in secondary school and it followed her through her psychology degree at the University of Aberdeen.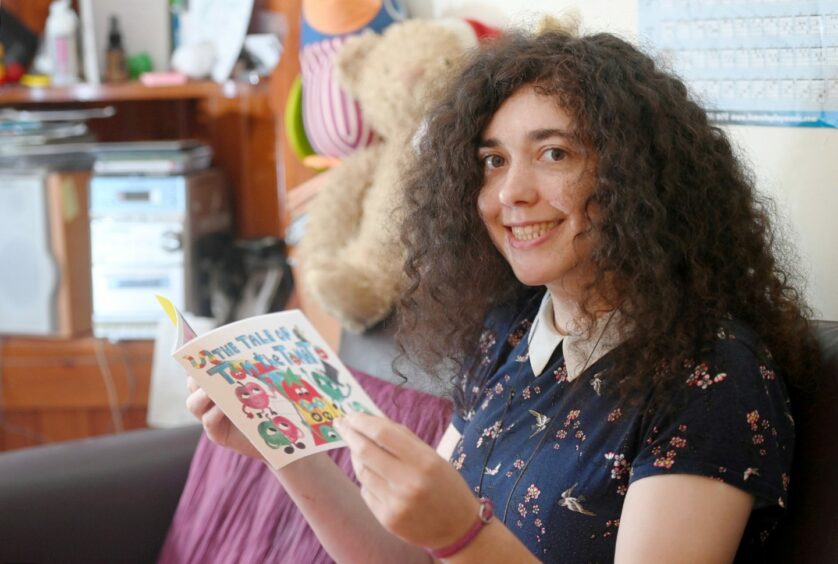 "I loved learning and tried to talk but the same thing happened again so I gave up," she says.
At that time, Nicola was seeing a psychologist and social workers, but had no formal diagnosis.
"They thought I suffered from chronic sadness and there was really nothing wrong with me," she says. "It's because I find it extremely difficult to communicate. You may be in agony in your head but have a blank expression on your face.
Eventually, Nicola was diagnosed with Asperger's syndromepart of the autism spectrum.
"It was as if a light bulb went on," says Nicola. She admits, however, that she had mixed feelings about her diagnosis.
Along with the relief, it also made her feel depressed. "I stopped thinking I was capable of things," she says.
pray for motivation
Turns out Nicola was capable of some pretty amazing things.
Three years after his diagnosis, Nicola has taken a turn.
"I was extremely depressed and I prayed to God and asked him for motivation and purpose," she says.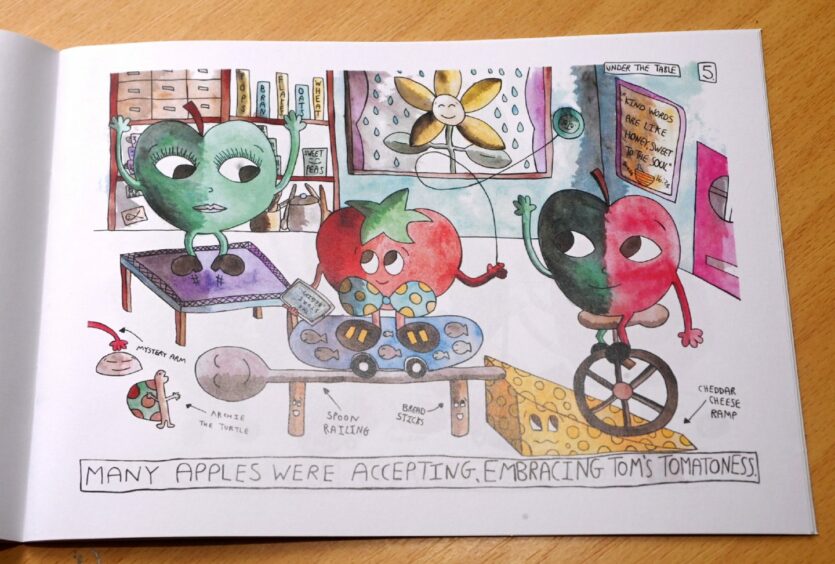 The next day Nicola started writing The Tale Of Tom The Tomato. She posted the story on Facebook, and it went pretty well. However, his illustrations needed a bit of work.
"My drawings were pretty lame at first, so I practiced drawing tomatoes over and over until they were perfect. My dad wondered why I was doing this!
The book is the story of a tomato's search for acceptance in an apple-dominated world. Nicholas explains:
"A tomato is a fruit, but it really doesn't belong anywhere – people don't see it as a fruit. Apples are also fruits and the most common type.
"It's a metaphor. A tomato doesn't really belong in a bowl of fruit, so it's about feeling rejected. And challenging any misconceptions people might have.
"A lot of people think autism is a disorder, something that's not entirely true. I try to challenge that.
autism awareness
Nicola worked on the story for six years, finally finding a publisher in 2021. Since then, she has been busy reaching out to schools.
In fact, very busy:
"I wrote to the teachers one by one to tell them about the book," she explains. "I've done all of Scotland and now I'm about halfway to England."
She has already sold a few hundred copies and plans to continue promoting the book to reach more children who feel lost.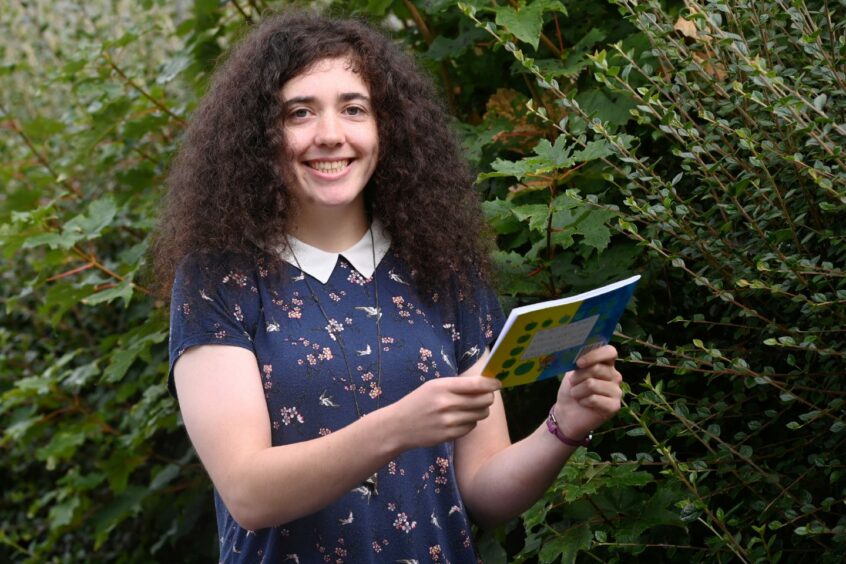 When asked if she's proud of what she's accomplished, Nicola has a disturbing answer.
"I just feel numb most of the time," she says.
However, while she struggles to express her feelings, she is eloquent about what motivates her.
"I wrote five more books in my twenties and I have it in my head that I want to finish them," she says. "I believe God gave me my books and helped me write every page. He was there for me when I was down.
For others who find themselves at rock bottom, Nicola's message is to ask for help. "Talk to someone and let them know how you feel," she says. "For adults, be sure to check people out."
Learn more about the Schools and Family team
Schools and nurseries set to close for three days as strikes loom
"We're the best school, so I'm not surprised" – Duncan Forbes students share pride in School Streets lawsuit
Parents pledge to step up pressure after Aberdeen school construction delay
Already subscribed? Login
[Aberdeen author writes children's book to highlight autism]
[[text]]