Lion Wing Publishing is bringing Maid Knight Saga The Story of Faltisia to the United States through a new Kickstarter campaign, and we've got all the details you need about the expected game right here. Maid Knight Saga The Story of Faltisia is a school life simulation board game where players choose a character and battle their way through three rounds to become one of the nation's most esteemed protectors, the Maids. Knights. A unique and ever-changing card drafting system shakes up every turn and requires adaptability while managing your student enrollment board and important goals require a long-term eye. There are a few things that could be incorporated into the experience to make it even better, but even without those additions the addictive and satisfying central loop of Maid Knight Saga: Faltisia's Story and a wealth of paths to achieve your goals finales is definitely worth your time.
There are two main boards that players will need to pay attention to as the game progresses, namely the Class Schedule Board and the Student Enrollment Board. Each player gets their own sign-up board while the lesson schedule is followed by everyone. Your sign-up chart is where you track your individual attribute points, which are divided into four categories including strength (red), intelligence (blue), beauty (yellow), and purity (green). ). You will need to reach a certain level to be eligible for a Provisional Maid License, giving you access to impressive ability or high MP points, which are factored into your score at the end of three rounds.
Manipulating your signup board is where a lot of the strategy reveals itself, as the cards in your deck will sometimes require you to spend an attribute point to gain another advantage, and you'll need to figure out if the cost is worth it, considering what type of lectures are scheduled throughout the other rounds and other factors such as the amount of money you have and graduation requirement cards, which will count in your final score or will be subtracted from that score at the end of the game.
Each turn gets a little jolt of mayhem thanks to a drafting mechanic that lets you draw cards from a deck, then pass them right or left and do so until all the cards are drawn. Because the cards are dealt, you'll have to prioritize what you want to do on the fly, and you probably won't get everything you want. This was quite prevalent in rounds 2 and 3, and it means you may have to skip some classes to get into off-campus activities that get you cash, rainbow tokens, etc., although this may not be preferable since you may have already played several cards that reward you for attending conferences of a certain color.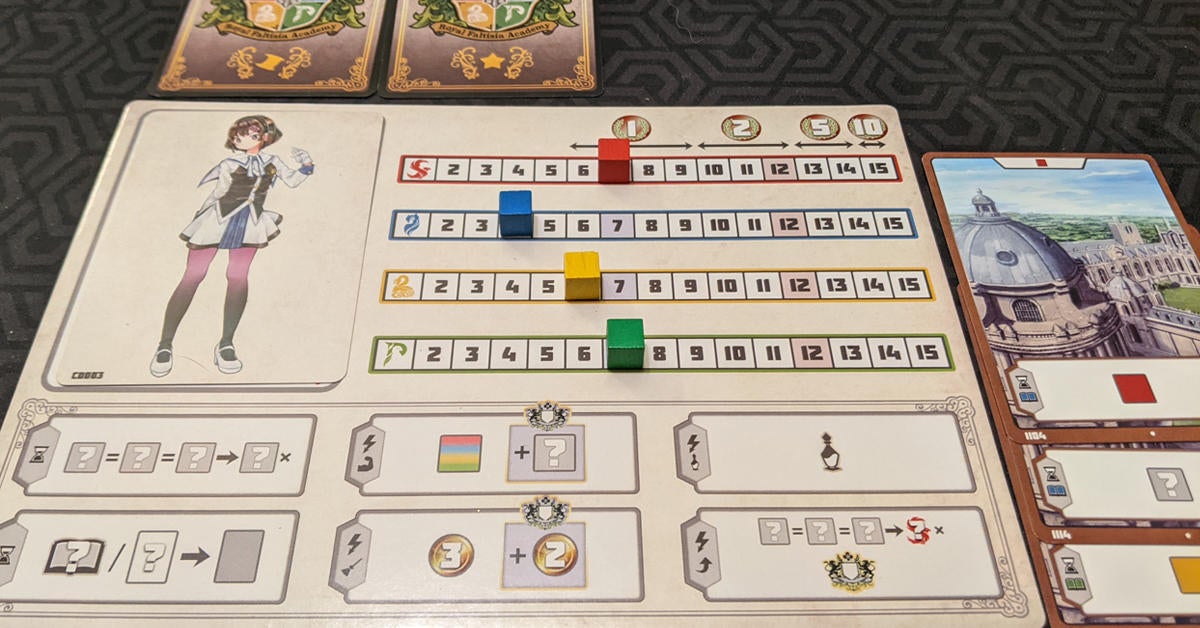 For example, at one point my character Giulia had several Organization cards on the board, which are continuous cards that give you an attribute token when you attend a conference of a certain color. Thing is, not all rewards are the same color as their conference, so I had multiple cards related to blue conferences, which gave me multiple colors at once every time I attended a blue conference. Since there were more on the program, I was able to climb the ranks quickly and get the license at the start of the second round, and everything was tied to the cards I had bought and played at the start of the first round. You can chain them together and create a deadly domino effect if you play cards well, but that doesn't mean you can't come back if someone else is ahead. You'll just have to think more outside the box in how you approach each lap.
The Maid Knights artwork is vibrant and colorful, as are aspects of the check-in board. I wish there was more Knight-style visual flair in the other boards and maps, because although there are large images on the individual maps and objects, they aren't as eye-catching or as dynamic as the Knight designs. Once you reach knight status, you will also get a powerful action, but after one use this card is like any other (unless it has a higher MP value), and I would have liked to see them play a bigger role as you progress through the game. If a continuous effect isn't possible, maybe some sort of unique skill that lets them start the game with a different attribute effect would have helped in this regard. Again, nothing revolutionary, but it could have made the Knights even more powerful and special.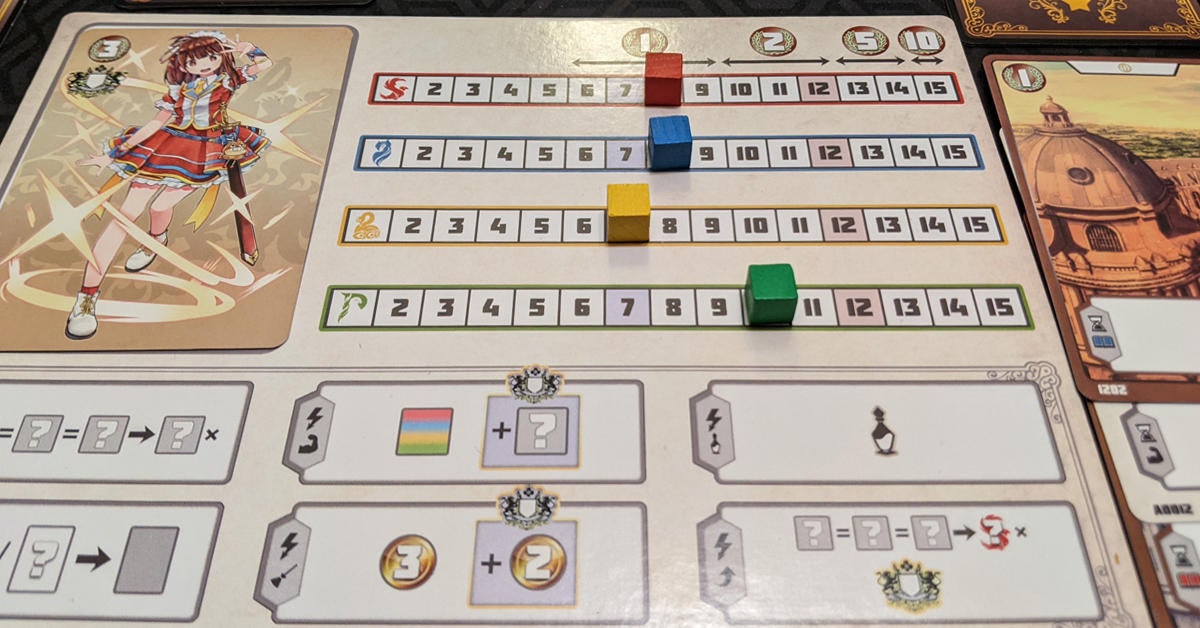 Even without those additions, I really enjoyed Maid Knight Saga: The Story of Faltisia, and that's not even weighing on the new stuff that The Battle for London expansion adds to the mix, which is also included in the Kickstarter campaign. . For those looking for an experience that requires on-the-fly thinking and long-term strategy to achieve ultimate success, Maid Knight Saga might just be the perfect game for you.
Maid Knight Saga: The Story of Faltisia is available on Kickstarter starting June 28, and you can find the Kickstarter campaign here!
What did you think of the preview, and will you be checking out Maid Knight Saga? Let us know in the comments or, as always, you can chat about all the tabletop stuff with me on Twitter @MattAguilarCB!