[ad_1]
Like all of us, Jason Reynolds lives in the present. But his approach may be a bit more intentional than ours. More than anything else, Jason sees the present as the bridge that connects the past and the future, and he always seems to have them both in view. Pieces of the past dot the landscape of her home, each a catalyst for her work in the present.
Every time he leaves home, Jason passes a slip of paper hanging in a frame on the wall – a rejection letter his grandmother received decades ago after failing to qualify for a job as a wife. household because she failed the written test. Jason introduced it as a reminder of the importance of the work he does, why he's leaving home, and why he needs to come back.
To say that Jason works with words might underestimate the facts. He is a best-selling author with a host of awards to his credit, having written over a dozen books for teens and young adults. His commitment to helping younger generations forge their own relationships with the written word is palpable, real and totally unintentional. Unsurprisingly though, it's a home that begins in the past, with the loss of her grandmother.
"I was never a good student," he admits. "All I ever had was my intuition." As a boy, Jason's relationship to reading and writing was simple: they didn't get along. All that changed when he was ten years old. His grandmother passed away and he saw the impact it had on his mother. "It's the first time I've heard my mother cry. I have not seen it. Because my mom was the kind of strong black woman you wish she didn't always have to be. But I could hear it through the wall and it was like it was chemically changing.
His desperation to help his mother feel better turned an enemy into an ally, and he wrote a six-line poem that his mother printed on the back of the funeral program. "That's when everything changed," he recalls. "But it was never about me. It was always about service. How do I change the temperature of a room? How do I stop my mother's tears?
A visit to Jason's house won't reveal many memories of his mother, but there's a reason for that. "I don't mess with my mother's stuff. She lives around the corner. I am still in this house. What it will reveal is a deep attachment to color. A dedicated advocate for his readership, especially those most at risk, Jason spends much of his time visiting schools and juvenile detention centers. Unsurprisingly, the two worlds share a common color palette. "I spend my whole life in institutions," he says. "I am in the schools. I am in jail. Typically black, white and steel places. I can't feel like this when I come home.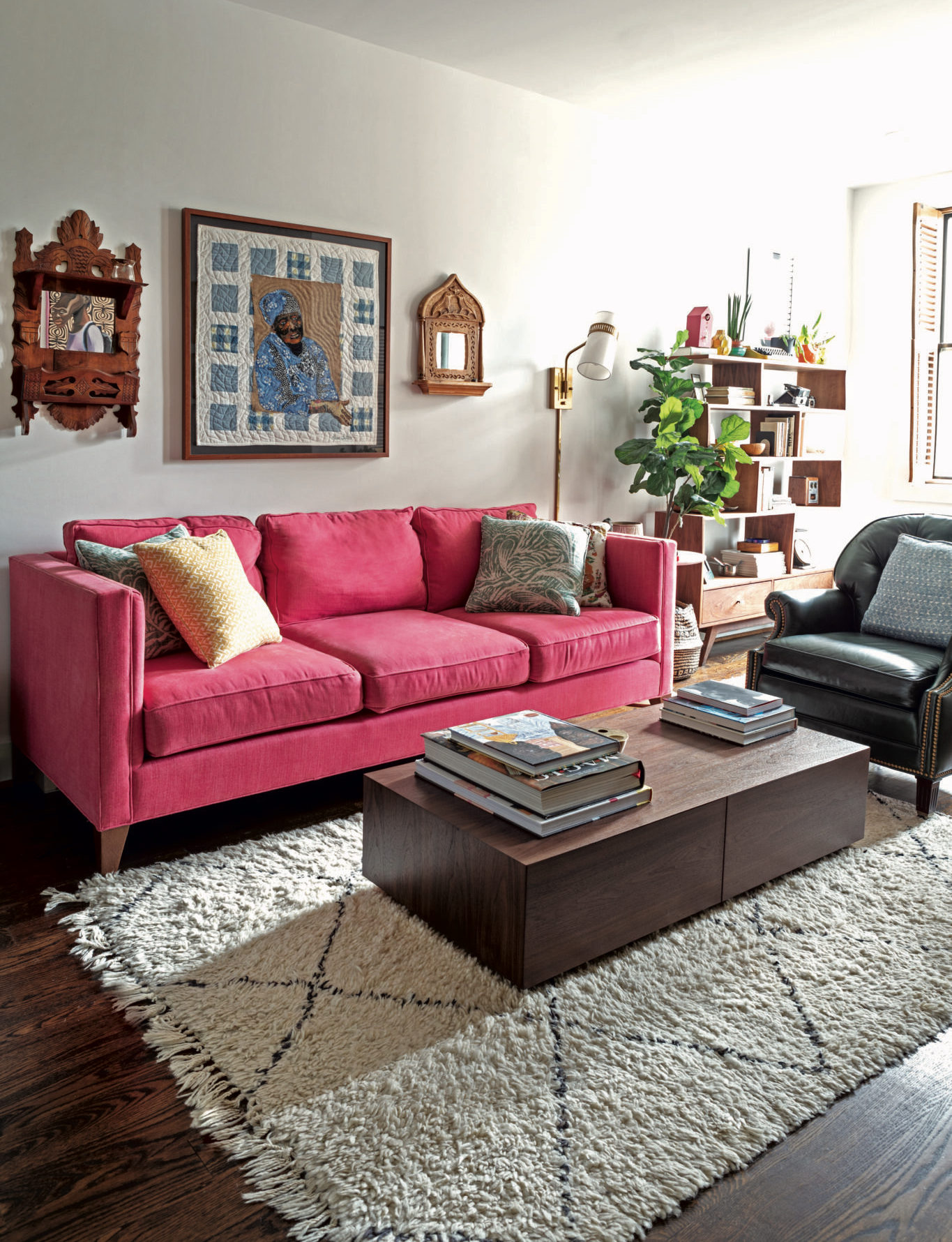 As a result, color is one of the defining elements of Jason's home. Intentionally placed against a neutral background, color enters each room at different levels and through different means. The white walls of her open-plan living space are broken up by a burst of yellow from a brightly hued accent wall meant to enhance the room's daily dose of natural light.
In the same space, which includes the kitchen and bar, many other shades make their presence felt in equally dramatic, albeit smaller, bursts. Hot pinks, deep greens and various shades of blue combine with other colors to create a kaleidoscopic effect that fills the room with energy.
In his bedroom and office, located on separate floors, things become serene almost to the point of austerity. In the bedroom, the blazes of color that blanket the lobby retreat into a room of meditative hues, distinguished by wallpaper in neutral tones and light patterns. Pops of blue from the table lamps, an apricot-colored chair, and a few scattered moments of color are all that's left. In the office, the white walls reappear.
Inspiring the clear mind it takes to create characters and shape their lives, the color of the wall is reflected in the single chair in the room, while yellow and blue make their way through the rug and filing cabinet. . It's a home full of bold color choices and the expert pairing of seemingly random pieces. And while it won't include any specific room from his mother's house, Jason will be the first to confirm that the concept behind his house is all about her.
"Mom always had really interesting tastes," Jason recalled. "Our house had Rodin replicas and a huge Buddha." However, years of meditation did not prevent her from being "madly upset" when the Buddha statue was smashed. "Which seemed a bit contrary to Buddha's teachings," he laughs. "But that argument didn't really work." A lifelong student of Eastern thought and meditation, Jason's mother kept a meditation space in the laundry room for daily use.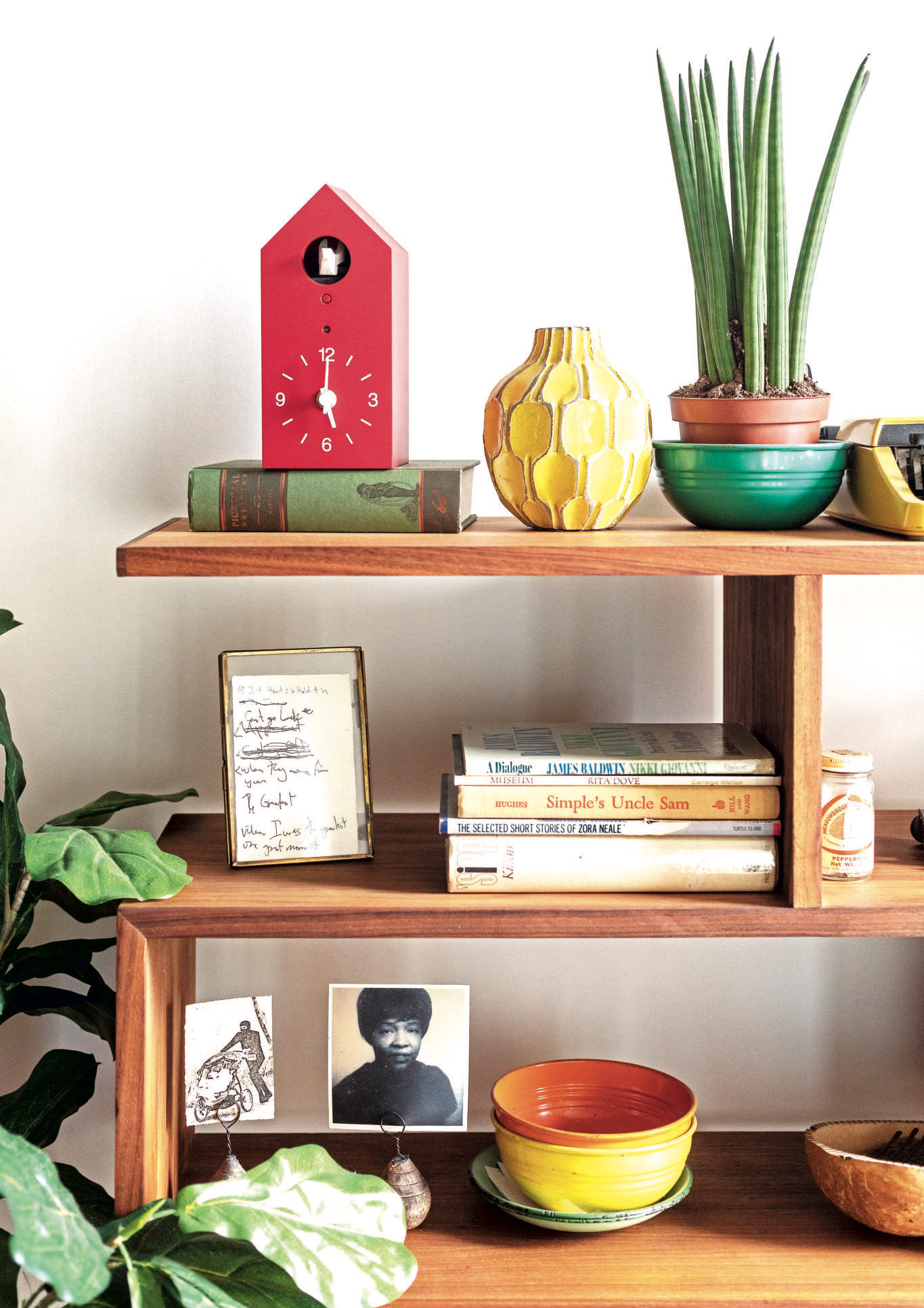 But Buddha and Rodin weren't his only design influences. Music was also present. "There was a piano, a pipe organ and an upright piano in one house – and an old trumpet with a little clip just attached to the wall. I don't know how she managed because we weren't those people. But that's the kind of stuff I think about more than anything.
Now in his own home, Jason's creative spirit comes from being surrounded by what he needs most: his books and his art. "I'm a great collector," he says beamingly, speaking of the works scattered around his house. "I have been for a long time." Art can be found in every room of the house, from a variety of different sources. In her living room, a gallery wall meant to classify the TV features a rose-framed artwork by Afro-Surrealist Alim Smith.
Another favourite, from Adebunmi Gbadebo, is loved for the statement he creates using black people's hair. "Hair is difficult for black people because of all the things attached to it or encoded in it," he suggests. "But it's something that connects us, all of our genetics, all over the world. We should praise it.
Books are perhaps the only thing easier to find in Jason's house than works of art. "There must be books in every room of my house, and I keep books in certain spaces for certain reasons." Art books stay handy on the couch and in the bedroom because they're small and easy to grab. Office literature is a source of inspiration and reference. Its collection extends beyond living room and office shelves to find homes on nearly any flat surface in the home.
But the abundance of books is more than an image requirement for the author. It is an artist's relationship to their art and how they view the work they do in the world. "It's almost like casting spells, which I can do for a living," he thinks. "All I have is twenty-six letters. It's my whole toolbox. Twenty-six letters that I have to somehow organize and rearrange into a complex code that chemically alters a person. And so I keep my tools handy.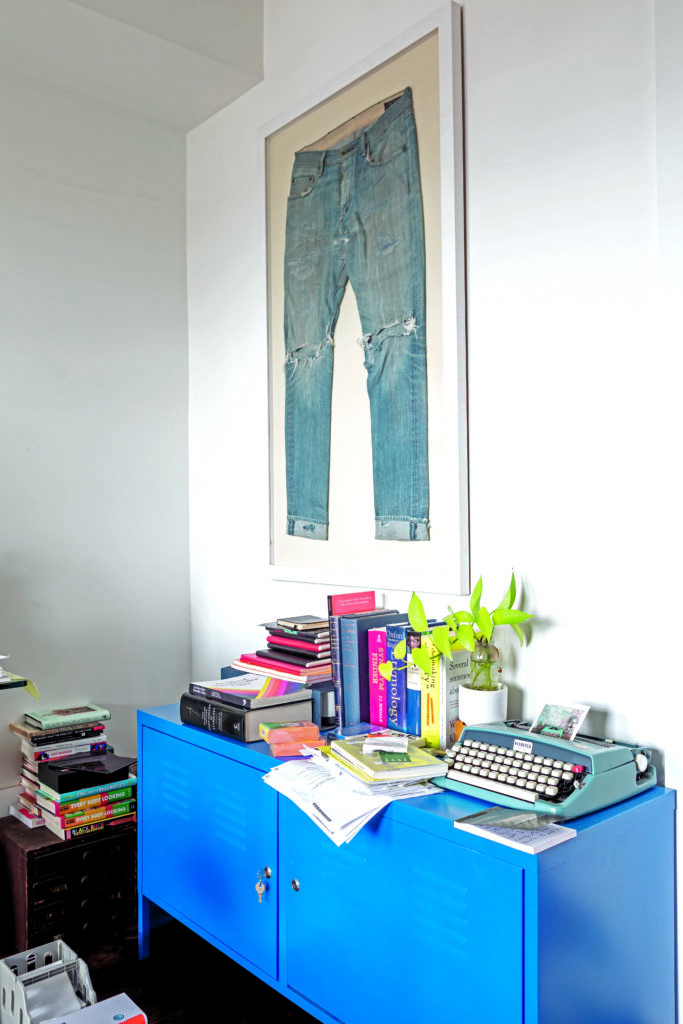 The author began using these tools with purpose for her first published work, a co-authored fusion of poetry and art for teens. "I never wanted to write novels," he admits. "I wanted to be Langston Hughes." But when a friend later convinced him to give it a shot, he found the only people he could show what he had created, "a book about black kids hanging around Brooklyn, being black," were publishers in the young adult category. It was his first big hit, titled When I was the greatest. Since then, Jason has come to not only embrace his medium and his audience, but to see the connection between the two as a vital part of his own experience and a crucial opportunity to help.
For Jason Reynolds, the past and the future are key ingredients of the present. The former gives it context, while the latter gives it purpose. In the same box that contains his grandmother's rejection letter, Jason keeps all the contents of his wallet, including his voter registration card, two symbols, he says, of his perseverance. In his office he keeps an Ernie-shaped Sesame Street cookie jar belonging to his grandfather, one of the few frivolities of an austere life, as well as artifacts from African-American literature, including letters by Langston Hughes and an autographed first edition by Toni Morrison. Beloved.
He designed his home so that the past was always before him – and MY GRANDFATHER INHERITED two hundred acres of land from his grandfather. So he never had to ask for anything, and in fact white people had to ask him for certain things. Because of that, my mom didn't know she was living in the Jim Crow home. When she was little, she could go to the ice cream shop and tell the white lady behind the counter to give her what she wanted and her daddy would pay for it later.
But the ice cream seller didn't insist that she keep all the spoons she used to be nice, but because a white person couldn't be expected to use a spoon once my mother's lips touched it. Black people today have a lot against us, but perspective matters. I tell young people all the time, "If you feel like your life is hard, ask your grandmother to tell you a story. You will find that you are well.
___________________________________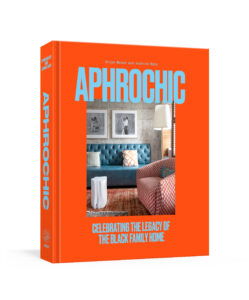 Reproduced with permission from AphroChic: Celebrating the Heritage of the Black Family Home. Copyright © 2022 by Jeanine Hays and Bryan Mason. Photographs copyright © 2022 by Patrick Cline. Photographs copyright © Chinasa Cooper (home of Danielle Brooks). Photographs copyright © Jochen Arndt (house of Chris Glass). Published by Clarkson Potter, an imprint of Penguin Random House, LLC.
[ad_2]
Source link